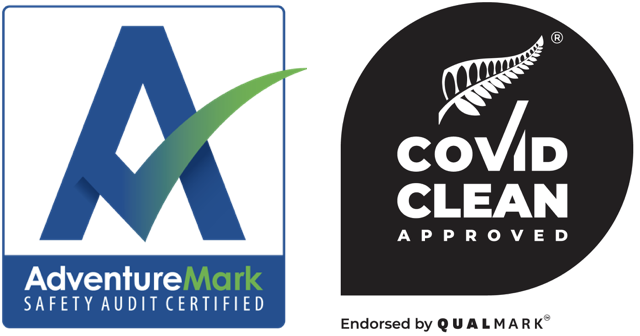 The health and safety of our guests and staff is our top priority.
Riverbugging is an outdoor activity that can be enjoyed by people from all walks of life. Our goal is to minimise the risks and maximise the fun through sound planing and management of our tours. "Safety First" is our motto – whether it's taking measures to ensure safety on the river, or minimising any potential spread of, or exposure to illness.
Riverbug.NZ is a registered Adventure Activity Operator, undergoing yearly safety audits to ensure currency and ongoing compliance. High standards of Safety Management Systems, equipment, staff and training are reflected in our excellent safety record. Top quality equipment keeps us safe and comfortable on the river, and our hygiene regime ensures that equipment worn by clients is cleaned after each trip and safe to use.
Riverbug.nz is a Covid Clean Approved Adventure Activity Operator endorsed by Qualmark NZ and is approved by AdventureMark NZ.
If you have any questions or concerns in relation to the safely and enjoyment riverbug.nz's unique experiences please contact us.