$159 Adult
$129 Child (<16)
Departures: Year round 2PM, (& 10AM on request) September – March, 10AM (April – September)
First-timer & family friendly
3 hours (approx 1.5 hours on the water)
Grade 1 & 2 (easy, fun whitewater)
Suitable for participants 1.25m or taller
Close to the Maurie Kjar Memorial Thermal Baths (Free entry)
From its source 25km upstream at Lake Tarawera the river flows swiftly through open valley plunging 65m over the spectacular Tarawera Falls before reaching the rural town of Kawerau – the location of our riverbug tour. Crystal clear water and fun rapids are features of this introduction to riverbugging located only 30 mins drive from Whakatāne, 50 mins from Rotorua or 1hr 10 mins from Tauranga.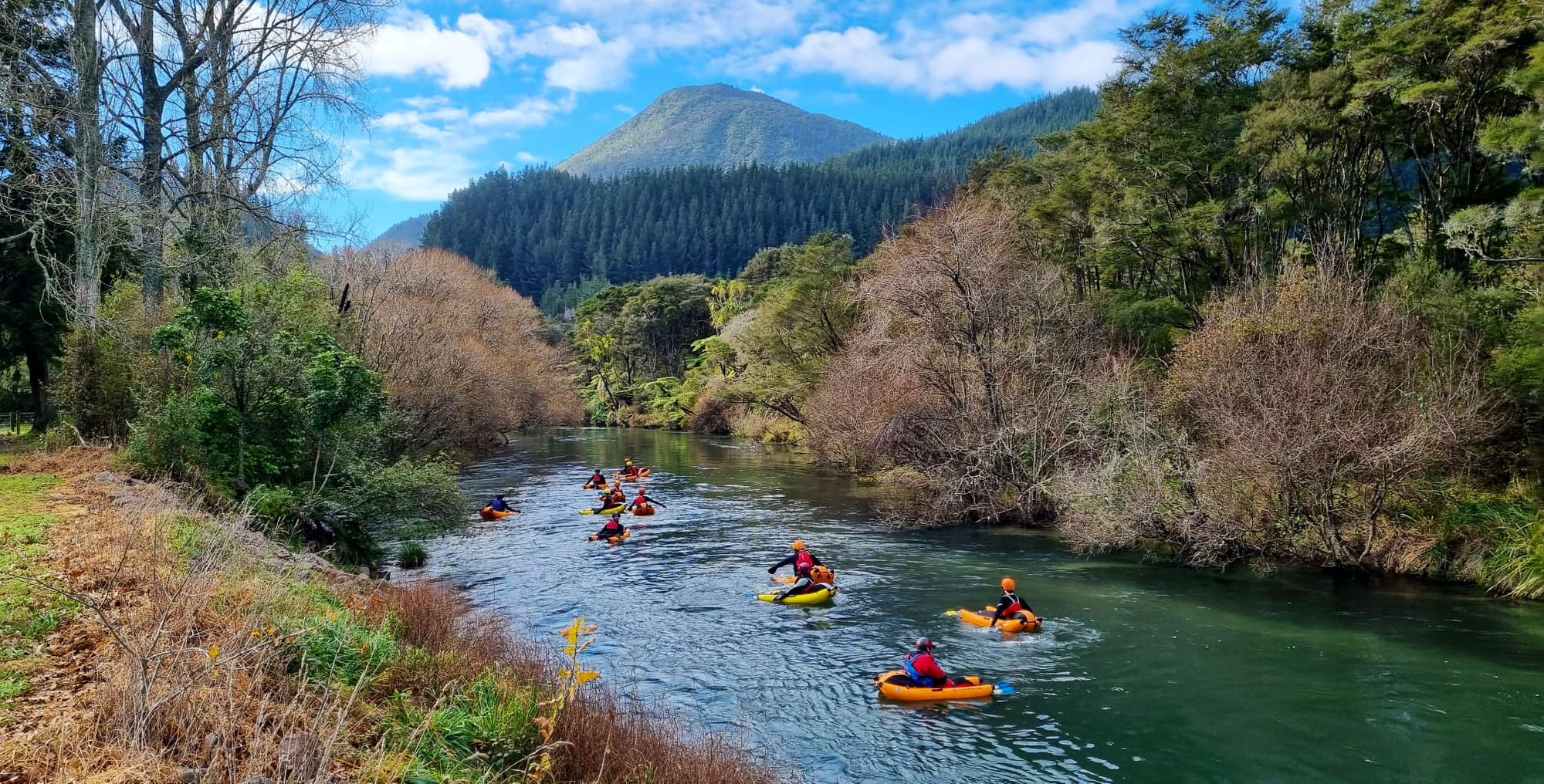 The Tarawera's easy swirling currents and swift, fun whitewater provide the perfect combination for learning the basics and challenging yourself in the rapids. Easy river access allows us to carry our bugs back upstream along the walking track for repeat runs of the fun 'Slalom Course' rapids.
A totally awesome experience to share with friends and family, or as a school, club or corporate team building outing. Contact us for Group Prices and details.
Other highlights around Kawerau include: Tarawera Falls, Maurie Kjar Memorial Thermal Baths (free entry), a hikoi (walk) around the cultural sites of Kawerau. Visit the Kawerau iSite to find out more about things to while you're in the area.
Meeting place for the Tarawera Riverbug tour is Firmin Lodge, Waterhouse St, Kawerau 3127, New Zealand
No previous whitewater experience is necessary.
All equipment and safety personnel provided.
All equipment and safety personnel provided.
Bring your swimwear, thin socks, towel & sun protection.
Allow approximately 3 hours in total.
Minimum participant height: 1.25m
Maximum participant weight: 120 kg
Expect to carry your riverbug (9 kg)
What to bring:
Swimwear, thin socks towel & sun protection.
Addition safety information can be viewed in our Trip Waiver.docx and Tarawera Riverbug Trip Management plan.pdf